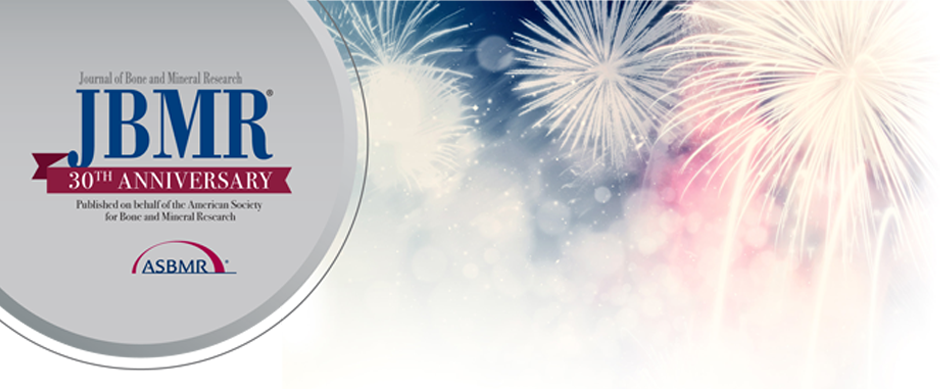 ASBMR
JBMR 30th Anniversary Celebration
1986
Founded as the official journal of the American Society for Bone and Mineral Research

1986-1990



Founding Editor-in-Chief
Lawrence G. Raisz, MD
Farmington, Connecticut
USA


Associate Editors
Murray Favus
Herbert Fleisch
John G. Haddad, Jr.
Barbara E. Kream
Henry M. Kronenberg
Etsuro Ogata
Gideon A. Rodan
Frederick R. Singer



John Adams
Constantine Anast
Claude D. Arnaud
Jane Aubin
Gerald D. Aurbach
Louis V. Avioli
Sonia Balsan
Roland Baron
Zvi Bar-Shavit
Norman Bell
Jean Philippe Bonjour
Adele L. Boskey
Neil Breslau
M. Elizabeth Bruns
William T. Butler
Ernesto Canalis
Sylvia Christakos
Roberto Civitelli
Thomas L. Clemens
Cary Cooper
Gail Dalsky
Leonard K. Deftos
Pierre Delmas
Hector F. DeLuca
David W. Dempster
Marc K. Drezner
Thomas A. Einhorn
John Eisman
Erik Eriksen
Herbert A. Fleisch
Takuo Fujita
Carol V. Gay
Francis Glorieux
Julie Glowacki
Stephen R. Goldring
David Goltzman
Maxine Gowen
Theodore Hahn
Robert Heany
Hunter Heath III
John N.M. Heersche
Helen H. Henry
Keith Hruska
C. Conrad Johnston, Jr.
Glenville Jones
John A. Kanis
Jennifer L. Kelsey
Michael Kleerekoper
Stephen M. Krane
Subhash Kukreja
Joseph M. Lane
Meryl S. Leboff
Jacob Lemann, Jr.
Uri A. Liberman
Robert Lindsay
T. John Martin
Stephen J. Marx
Toshio Matsumoto
L. Joseph Melton III
Pierre J. Meunier
Gregory R. Mundy
Robert A. Nissenson
Anthony W. Norman
Jeffrey O'Riordan
Eric S. Orwoll
Susan M. Ott-Ralph
Maureen E. Owen
Charles Y.C. Pak
A. Michael Parfitt
William A. Peck
J. Wesley Pike
John T. Potts
Paul Price
J. Edward Puzas
Howard Rasmussen
B. Lawrence Riggs
Rene Rizzoli
Pamela Gehron Robey
G. David Roodman
Clifford Rosen
Vicki Rosen
Michael Rosenblatt
R.G.G. Russell
Elizabeth Shane
Eduardo Slatopolsky
Andrew Stewart
Tatsuo Suda
Fujio Suzuki
John D. Termine
Glenda Wong
Alberta Zambonin-Zallone
Reinhard Ziegler

"The subject matter of JBMR will include both clinical and laboratory investigations covering the wide range of research related to bone and mineral metabolism which has been presented at the annual meeting of ASBMR. We will also publish editorials and editorial reviews on controversial topics."

JBMR Volume 1, Issue 1
The Editors

1991
1991-1994



Editor-in-Chief
Lawrence G. Raisz, MD
Farmington, Connecticut
USA




1991

Deputy Editors
Barbara E. Kream
Joseph A. Lorenzo

Associate Editors
Murray Favus
Herbert Fleisch
John G. Haddad, Jr.
Henry M. Kronenberg
Etsuro Ogata
B. Lawrence Riggs
Gideon A. Rodan
Frederick R. Singer



"We believe that we can substantially speed up our review process. To accomplish this we have expanded the Editorial Board, added to our office staff, and, perhaps most important, obtained our own office FAX machine."

JBMR Volume 5, Issue 1
The Editors

1995



Top Five Most Frequently Cited Articles Published 1986-1995











1995-2003



Second Editor-in-Chief
Marc K. Drezner, MD
Durham, North Carolina/
Madison, Wisconsin USA


Deputy Editors
Michael J. Econs
Kenneth W. Lyles

Associate Editors
Jean-Philipe Bonjour
Bess Dawson-Hughes
John A. Eisman
David Goltzman
Rajiv Kumar
Tatsudo Suda



Timothy R. Arnett
Louis V. Avioli
Roland Baron
Zvi Bar-Shavit
Jon N. Beresford
Daniel D. Bikle
Scott D. Boden
Jean Philippe Bonjour
David A. Bushinsky
Charles H. Chestnut III
Roberto Civitelli
Thomas L. Clemens
Steven R. Cummings
Gail Dalsky
Bess Dawson-Hughes
Pierre Delmas
David W. Dempster
Thomas A. Einhorn
John Eisman
Erik Eriksen
David R. Eyre
Rolf Felix
Larry W. Fisher
Carol V. Gay
Harry K. Genant
Francis Glorieux
Stephen R. Goldring
Maxine Gowen
Susan L. Greenspan
Helen H. Henry
Janet M. Hock
Siu Lui Hui
Kyoji Ikeda
Harald Jüppner
John A. Kanis
Jennifer L. Kelsey
Michael Kleerekoper
Elizabeth A. Krall
Subhash Kukreja
Meryl S. Leboff
Jane B. Lian
Stavros C. Manolagas
Rebecca S. Mason
Toshio Matsumoto
L. Joseph Melton III
Pierre J. Meunier
Leif Mosekilde
Geoffrey C. Nicholson
Robert A. Nissenson
Eric S. Orwoll
Susan M. Ott-Ralph
Roberto Pacifici
Charles Y.C. Pak
A. Michael Parfitt
Nicola C. Partridge
Richard L. Prince
J. Edward Puzas
L. Darryl Quarles
Robert R. Recker
Rene Rizzoli
Pamela Gehron Robey
G. David Roodman
Clifford Rosen
Vicki Rosen
Michael Rosenblatt
Randy N. Rosier
Clinton T. Rubin
Ego Seeman
Elizabeth Shane
Justin Silver
Ethel S. Siris
Timothy M. Skerry
Charles W. Slemenda
Malcolm Snead
MaryFran Sowers
Andrew Stewart
Fujio Suzuki
Naoyuki Takahashi
Steven L. Teitelbaum
John D. Termine
Michael P. Whyte
Shlomo Wientroub
Reinhard Ziegler



2000
"We enter this new era of the Journal with enthusiasm and hope for an improved publication that will serve our readership well."

JBMR Volume 15, Issue 1
Marc K. Drezner

2001
Top Five Most Frequently Cited Articles Published 1995-2004




2003-2008



Third Editor-in-Chief
John A. Eisman, MBBS, PhD
Sydney, New South Wales
Australia


Associate Editors
Sylvia Christakos
Olof Johnell (2003-2007)
Gerard Karsenty
Shigeaki Kato
Huibert Pols (2007-2008)
Pamela Gehron Robey
G. David Roodman
Clifford Rosen
Andrew F. Stewart
Rajesh V. Thakker



Yousef Abu-Amer
H. Clarke Anderson
John J.B. Anderson
Troels T. Andreassen
Timothy R. Arnett
Jon N. Beresford
Paolo Bianco
Joseph P. Bidwell
Daniel D. Bikle
Neil Binkley
Scott D. Boden
Brendan F. Boyce
David A. Bushinsky
Xu Cao
Joseph Caverzasio
Marco Cecchini
Timothy Chambers
Chantal Chenu
Charles H. Chestnut III
Roberto Civitelli
Juliet E. Compston
Steven R. Cummings
Hong-Wen Deng
Colin Dunstan
Peter Ebeling
Thomas A. Einhorn
Ghada El-Hajj Fuleihan
Solomon Epstein
David R. Eyre
Rolf Felix
Serge L. Ferrari
Larry W. Fisher
Lorraine Fitzpatrick
Tatiana Foroud
Seiji Fukumoto
Edith M. Gardiner
Harry K. Genant
Louis C. Gerstenfeld
Matthew T. Gillespie
Susan L. Greenspan
Ted S. Gross
Theresa A. Guise
Geoffrey N. Hendy
Janet M. Hock
Michael F. Holick
Keith Hruska
Siu Lui Hui
Kyoji Ikeda
Suzanne M. Jan de Beur
Teppo L.N. Järvinen
Harald Jüppner
Shigeaki Kato
Sundeep Khosla
Douglas P. Kiel
Robert F. Klein
Christopher S. Kovacs
Elizabeth A. Krall
Paul H. Krebsbach
Nancy Krieger
William Landis
Nancy E. Lane
Craig B. Langman
Meryl S. Leboff
Brendan Lee
Mary B. Leonard
Jane B. Lian
Anne C. Looker
Stavros C. Manolagas
Rebecca S. Mason
Toshio Matsumoto
Koichi Matsuo
Laurie K. McCauley
Pierre J. Meunier
Ralph A. Meyer Jr.
Leif Mosekilde
Tally Naveh-Many
Tuan V. Nguyen
Geoffrey C. Nicholson
Riko Nishimura
Regis O'Keefe
Lynne A. Opperman
Eric S. Orwoll
Philip Osdoby
Roberto Pacifici
A. Michael Parfitt
Anthony A. Portale
Paul Price
Richard L. Prince
J. Edward Puzas
L. Darryl Quarles
Stuart H. Ralston
D. Sudhaker Rao
Robert R. Recker
Helmtrud I. Roach
Pamela Gehron Robey
G. David Roodman
Clifford Rosen
Randy N. Rosier
F. Patrick Ross
Janet E. Rubin
Clinton T. Rubin
Isidro Salusky
Philip N. Sambrook
Ernestina Schipani
Ego Seeman
Eileen M. Shore
Justin Silver
Stuart Silverman
Frederick R. Singer
Ethel S. Siris
Timothy M. Skerry
Malcolm Snead
MaryFran Sowers
Tim Spector
Larry J. Suva
Fujio Suzuki
Naoyuki Takahashi
Sakae Tanaka
Steven L. Teitelbaum
Dwight A. Towler
Florence Tremollieres
Connie M. Weaver
Michael P. Whyte
Shlomo Wientroub
John J. Wysolmerski
Reinhard Ziegler

"Over the years of the Journal, there has been a gradual evolution in science from basic physiology and clinical research to more sophisticated studies including complex statistics and genomics and molecular biology, genetics, and proteomics in intense efforts to understand mechanisms with respect to bone biology and the increasing focus on osteoporosis research."

JBMR Volume 20, Issue 1
John A. Eisman

2007
Top Five Most Frequently Cited Articles Published 2004-2008




2008-2012



Fourth Editor-in-Chief
Thomas L. Clemens, PhD
Baltimore, Maryland
USA


Senior Associate Editors
John P. Bilezikian
Xu Cao

Associate Editors
John S. Adams
Lynda F. Bonewald
Juliet E. Compston
Peter R. Ebeling
Theresa Guise
Sundeep Khosla
Laurie K. McCauley
Regis J. O'Keefe
Hiroshi Takayanagi



Bo Abrahamsen
Yousef Abu-Amer
Silvano Adami
Robert A. Adler
Matthew R. Allen
H. Clarke Anderson
John J.B. Anderson
Troels T. Andreassen
Gerald Atkins
Zvi Bar-Shavit
Ted Bateman
Paolo Bianco
Joseph P. Bidwell
Neil Binkley
Glenn M. Blake
Peter Van Nest Bodine
Lynda Bonewald
Edith Bonnelye
Adele L. Boskey
Mary Bouxsein
Brendan F. Boyce
Maria Luisa Brandi
Marco Brotto
Matthew A. Brown
M. Leonor Cancela
Xu Cao
Thomas O. Carpenter
Marco Cecchini
Yang Chai
Timothy Chambers
Di Chen
Chantal Chenu
Je-Yong Choi
Roberto Civitelli
Bart L. Clarke
Greg Clines
Dan Cohn
Juliet E. Compston
Steven R. Cummings
Sarah Dallas
Robin M. Daly
David W. Dempster
Hong-Wen Deng
Gabriel DiMattia
Henry J. Donahue
Hicham Drissi
Patricia Ducy
Emma Duncan
Colin Dunstan
Thomas A. Einhorn
Florent Elefteriou
Ghada El-Hajj Fuleihan
Solomon Epstein
Erik Eriksen
Astrid Fahrleitner-Pammer
Charles R. Farber
Kenneth G. Faulkner
Nicola Fazzalari
Serge L. Ferrari
David M. Findlay
Lorraine Fitzpatrick
Tatiana Foroud
Mark Forwood
Renny Franceschi
Baruch Frenkel
Kevin K. Frick
Peter A. Friedman
Seiji Fukumoto
Edith M. Gardiner
Patrick Garnero
Luigi Gennari
Louis C. Gerstenfeld
Philip Giampietro
Matthew T. Gillespie
Catherine Gordon
Warren L. Grayson
Stan Gronthos
Ted S. Gross
Jerome J. Guicheux
Theresa A. Guise
Caren M. Gundberg
Mark Hamrick
Kurt D. Hankenson
Geoffrey N. Hendy
Martin Hewison
Lorenz C. Hofbauer
Michael F. Holick
Lexie Shannon Holliday
Sophie A. Jamal
Suzanne M. Jan de Beur
Teppo L.N. Järvinen
Yebin Jiang
Robert L. Jilka
Mark L. Johnson
Graeme Jones
David Karasik
Takenobu Katagiri
Sundeep Khosla
Douglas P. Kiel
Gordon L. Klein
Robert F. Klein
Tatsuya Kobayashi
Scott L. Kominsky
Christopher S. Kovacs
Paul H. Krebsbach
Annie Kung
William Landis
Nancy E. Lane
Thomas Lang
Craig B. Langman
Brendan Lee
Mary B. Leonard
William D. Leslie
Anne C. Looker
William Lu
Barbara P. Lukert
Sharmila Majumdar
Ralph Marcucio
Robert Marcus
Rebecca S. Mason
Koichi Matsuo
Laurie K. McCauley
Eugene McCloskey
Christian Meier
Ralph A. Meyer Jr.
Karl Michaelsson
Yuji Mishina
Subburaman Mohan
Stefan Mora
Leif Mosekilde
Toshitaka Nakamura
Mark S. Nanes
Tally Naveh-Many
Ilka Nemere
Tuan V. Nguyen
Dan Nicolella
Riko Nishimura
Deborah Novack
J. Patrick O'Connor
Claes Ohlsson
Regis O'Keefe
Lynne A. Opperman
Philip Osdoby
Merry Jo Oursler
Roberto Pacifici
A. Michael Parfitt
Eleftherios P. Paschalis
John M. Pettifor
Anthony A. Portale
Richard L. Prince
Lin Qin
Ling Qin
L. Darryl Quarles
Liza Raggatt
Stuart H. Ralston
D. Sudhaker Rao
Sakamura Reddy
Fernando Rivadeneira
Helmtrud I. Roach
Pamela Gehron Robey
G. David Roodman
F. Patrick Ross
Janet E. Rubin
Isidro Salusky
Philip N. Sambrook
H. Wayne Sampson
Kerrie Sanders
Daniele Santini
Ernestina Schipani
Edward M Schwarz
Ego Seeman
Markus J. Seibel
Elizabeth Shane
Eileen M. Shore
Stuart Silverman
Frederick R. Singer
Ethel S. Siris
Malcolm Snead
Larry J. Suva
Shu Takeda
Sakae Tanaka
Sortiros Tetradis
Yin Tintut
J.H. Tobias
Dwight A. Towler
Charles H. Turner
Andre van Wijnen
Agnes Vignery
Mei Wan
Nelson B. Watts
Connie M. Weaver
Jennifer J. Westendorf
Bart O. Williams
John J. Wronski
John J. Wysolmerski
Guozhi Xiao
Lianping Xing
Yingzi Yang

"We are committed to selecting only the best basic and clinical science for publication in the Journal. I welcome your comments and encourage you to submit your work to the JBMR."

JBMR Volume 25, Issue 1
Thomas L. Clemens

2008
The new cover will display original artwork and photomicrographs selected from material solicited from contributors to the JBMR.



2011
Top Five Most Frequently Cited Articles Published 2008-2012




First Chinese-language edition published
Open Access option offered for the first time
Online downloads reach 100,000/month







2013
2013-Present



Fifth Editor-in-Chief
Juliet E. Compston, MD
Cambridge, England
United Kingdom


Senior Associate Editors
Brendan F. Boyce
Roger Bouillon 2015-present
Douglas P. Kiel 2013-2015
Robert Nissenson

Associate Editors
Bo Abrahamsen
Roger Bouillon (2013-2015)
Mary L. Bouxsein
Lorenz Z. Hofbauer
Thomas F. Lang
Mary B. Leonard
William D. Leslie
Pierre J. Marie
Masaki Noda
Deborah V. Novack (2015-present)
Ian Reid (2015-present)
Vicki Rosen
Elizabeth Shane (2013-2015)
Rajesh V. Thakker



Yousef Abu-Amer
Robert A. Adler
Matthew R. Allen
Tamara Alliston
Timothy R. Arnett
Gerald Atkins
Ted Bateman
Douglas C. Bauer
Maria Luisa Bianchi
Paolo Bianco
Neil Binkley
Glenn M. Blake
Peter Van Nest Bodine
Cesar Bogado
Edith Bonnelye
Adele L. Boskey
Steve Boyd
Miriam Bredella
Marco Brotto
Bjoern Buehring
David B. Burr
Thomas O. Carpenter
Yang Chai
Wenhan Chang
Lin Chen
Je-Yong Choi
Christine Chung
Roberto Civitelli
Bart L. Clarke
Greg Clines
Martine Cohen-Solal
Dan Cohn
Celine Colnot
Sarah Dallas
Robin M. Daly
David W. Dempster
Hong-Wen Deng
Douglas Digirolamo
Henry J. Donahue
Matthew T. Drake
Hicham Drissi
Emma Duncan
Colin Dunstan
Thomas A. Einhorn
Florent Elefteriou
Ghada El-Hajj Fuleihan
Klaus Engelke
Erik Eriksen
Daniel Evans
Roberta Faccio
Astrid Fahrleitner-Pammer
Charles R. Farber
David M. Findlay
Renny Franceschi
Kevin K. Frick
Patrick Garnero
Luigi Gennari
Matthew T. Gillespie
Catherine Gordon
Struan Grant
Warren L. Grayson
Stan Gronthos
Nuria Guanabens
Caren M. Gundberg
Kurt D. Hankenson
Geoffrey N. Hendy
Eric Hesse
Martin Hewison
Michael F. Holick
Edward C. Hsaio
Anita Ignatius
Carlos M. Isales
Karl Jepsen
Mark L. Johnson
Graeme Jones
David Karasik
Takenobu Katagiri
Scott L. Kominsky
Christopher S. Kovacs
Kenneth M. Kozloff
Paul H. Krebsbach
Annie Kung
Craig B. Langman
Mike Lewiecki
Jian-min Liu
Fanxin Long
William Lu
Barbara P. Lukert
Christa Maes
Stavros C. Manolagas
Ralph Marcucio
Robert Marcus
Rebecca S. Mason
Eugene McCloskey
Ralph A. Meyer Jr.
Yuji Mishina
Nicola Napoli
Tuan V. Nguyen
Dan Nicolella
Riko Nishimura
Deborah Novack
Barbara Obermayer-Pietsch
Claes Ohlsson
Eric S. Orwoll
Merry Jo Oursler
John M. Pettifor
Ken Poole
Lin Qin
Ling Qin
Liza Raggatt
Frank Rauch
Sakamura Reddy
Ian Reid
Lars Rejnmark
Brent Richards
Fernando Rivadeneira
Pamela Gehron Robey
G. David Roodman
Lisa Samelson
Kerrie Sanders
Ernestina Schipani
John T. Schousboe
Edward M Schwarz
Claudia Sedlinsky
Ego Seeman
Matt Silva
Stuart Silverman
Joseph Stains
Larry J. Suva
Pawel Szulc
Sakae Tanaka
Tingting Tang
Sortiros Tetradis
Yin Tintut
J.H. Tobias
Dwight A. Towler
Andre van Wijnen
Agnes Vignery
Mei Wan
Jinxi Wang
Meiqing Wang
Stuart Warden
Nelson B. Watts
Connie M. Weaver
Jennifer J. Westendorf
Michael P. Whyte
Bart O. Williams
Weibo Xia
Guozhi Xiao
Lianping Xing
Yingzi Yang
Christiano Zerbini

"The rapid pace of scientific and clinical advances in the bone field shows no sign of abating and the next 5 years should prove as exciting as the last. We look forward to playing a major role in the dissemination of new discoveries and the discussion of controversies and topical issues."

Juliet Compston



2014
ARRIVE and CONSORT Guidelines adopted



2015
Top Five Most Frequently Cited Articles Published 2012-2015




Two-thirds of members opt for online-only access.




Dedication to authors
From its first issue to the present day, the JBMR and the entire bone community have been the beneficiaries of the authors who chose to submit their work to the Journal. The JBMR consistently attracts high quality submissions and has become the most frequently cited and influential bone journal in the world. This would not have been possible without the hard work of all the authors who have contributed to JBMR over the past 30 years.

Dedication to Editorial Board members and reviewers
The success of the JBMR relies on the generous contribution of hundreds of Editorial Board members and other reviewers who have devoted many hours to evaluating manuscripts. Members of the JBMR Editorial Board over the past 30 years may be viewed here.

Staff Acknowledgement
No journal could function without staff dedicated to assisting the editors in managing the peer review process and navigating the many challenges of publication production. The JBMR has been fortunate to have the assistance of the following individuals:
Linda Graver
Candace Lammers
Adrienne Lea
Heather Price
Amber Williams
David Allen
Matthew Kilby
Aaron Fennell
Robert Fulcher
Lynn King
Lynn Mirigian
Ann L. Elderkin

The JBMR has also been fortunate to have the support of Wiley-Blackwell and in particular the following Wiley staff:
Colette Bean
Jinnie Kim
Katie Simmons
Jane Taylor